A new Honorary Freeman appointed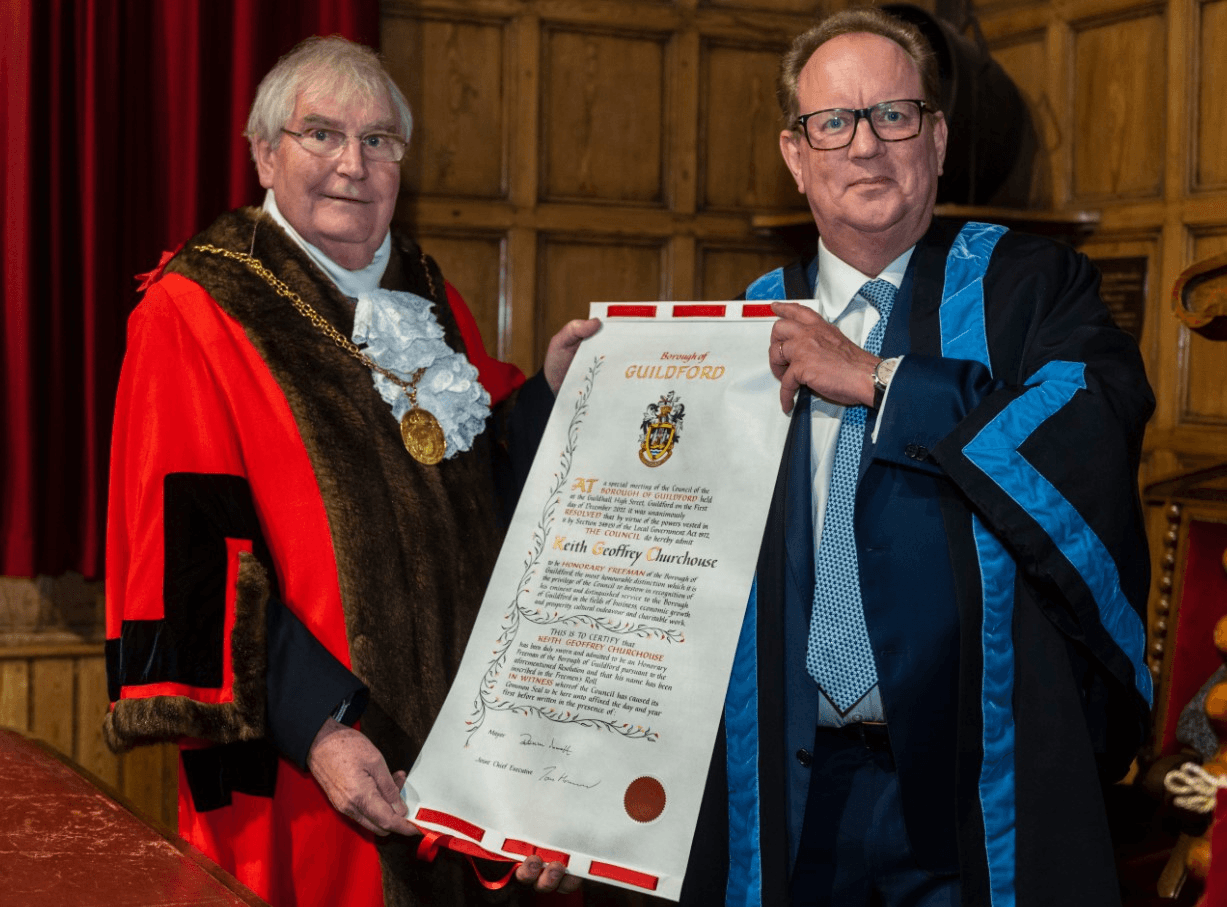 The long-standing contributions of Keith Churchouse to our town received recognition last night, when he was appointed as an Honorary Freeman. This is the highest honour we can give for service to the borough. The ceremony took place at a Special Council meeting at the Guildhall.
The Mayor of Guildford, Cllr Dennis Booth, said:
"Congratulations and thank you to our new Honorary Freeman, Keith Churchouse. There have only been six people appointed as Honorary Freemen since 1984 in our borough. Keith's service to our community is unquestionable and selfless. It is a privilege for our borough to have such a dedicated presence in Keith. He is greatly deserving of this prestigious honour. He has given much of his time and resource to enrich our town and the lives of our residents. Thank you, Keith, for all that you do."
Lead Councillor for Economy, Cllr John Redpath, said:
"Keith Churchouse's contributions to town life mean this appointment is well-deserved. He has and continues to be central to our business and charitable communities. With both personal and professional ties to our town, his commitment is unquestionable. Keith moved to our borough as a child and attended a local school. He later ran his own Financial Planning Business for around 20 years, based in Guildford. I met Keith through a charity fundraiser I had organised. It was clear to me that his drive to do good for this town is overriding. Keith has served our borough in various roles. He has made a notable difference to our communities through his selfless work."
Some of Mr Churchouse's involvement in our borough are:
Chair of Guildford Business Forum (2011-2014) President Guildford Branch Surrey Chamber of Commerce Founding Director of Experience Guildford (the Guildford Business Improvement District) Trustee (2011-2014), and Chair (2013-2014) of Guildford Shakespeare Company Trustee, Chair and Treasurer of Headway Surrey (2013-2020) Sponsor of Lions Club Charity Firework event since 2017 Supporter of Guildford in Bloom, providing sponsorship, advice and a prize He has been a supporter and adviser to:
Guildford Shakespeare Company the Guildford Sea Cadets Headway Surrey Sponsor and promoter of the Guildford Town Centre Cycle Races Mr Churchouse continues to be active and selfless. His involvement in charity work includes:
Child Poverty and Hunger as a result of the COVID-19 Pandemic Continuing involvement with Headway Surrey Fundraising for Seafarers UK in Guildford Involvement in theatre and the arts including Guildford Fringe and Guildford Shakespeare Company Mr Churchouse suffers from Spina Bifida. Despite this he entered the Great South Run, a 10 miles route. Raising money for SHINE (the Spina Bifida and Hydrocephalus charity) The proposal to appoint Mr Churchouse as an honorary freeman was made by Cllr John Redpath and seconded by Cllr Paul Spooner.
Press contact: Grace Clayton – e-mail: [email protected]