G LIVE ANNOUNCES CHRISTMAS SEASON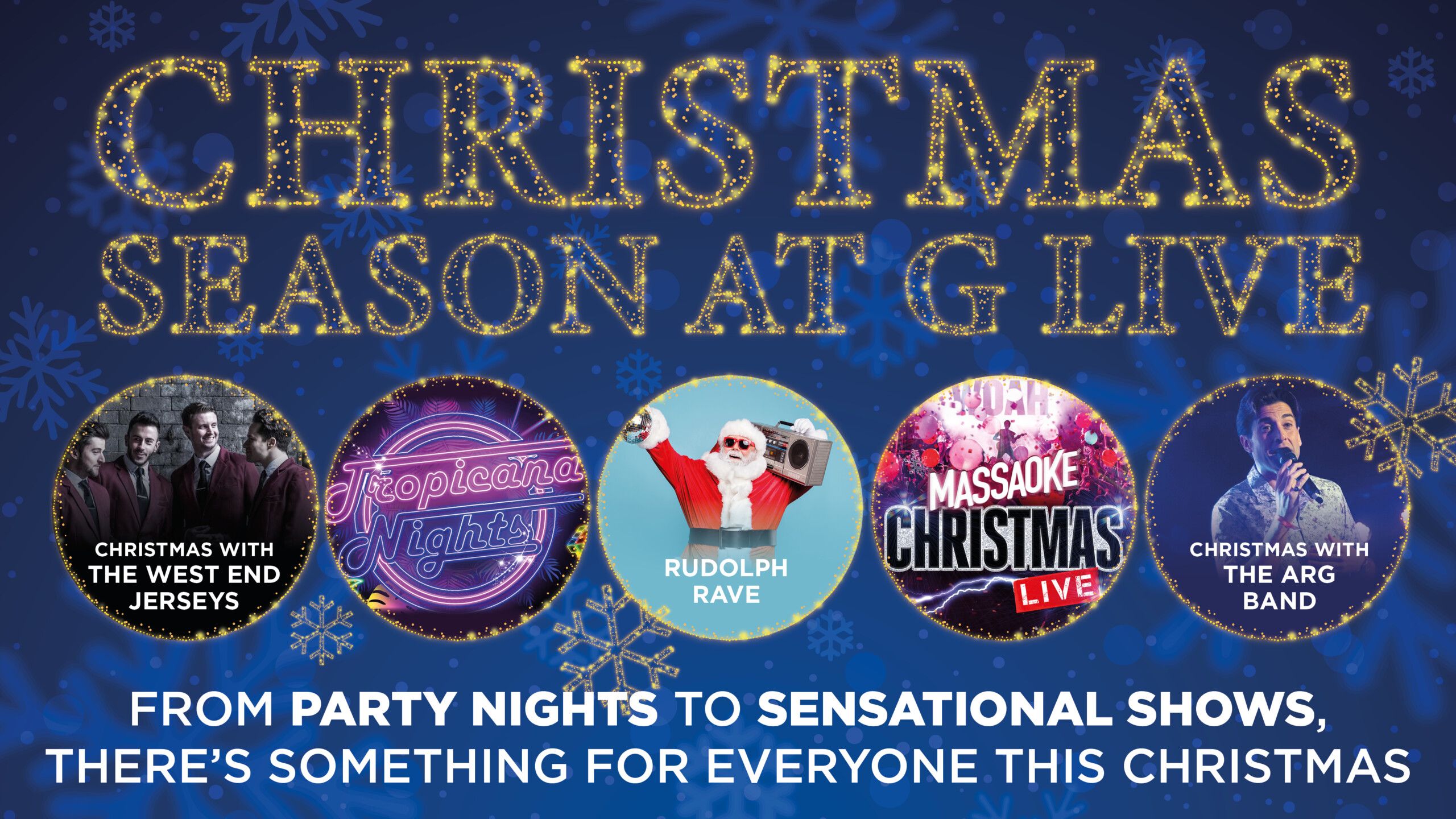 Guildford's G Live have today confirmed their Christmas season of entertainment, comprising of music, comedy, ballet, theatre, film, party nights and festive dining events.
Celebrations start with a nostalgic sleigh ride through the golden age of Rock 'n' Roll with the That'll Be The Day Christmas ShowBold (21 November). Music continues with **Sophie Ellis-Bextor's Christmas Kitchen Disco **Italic(7 December), with Sophie adding her own disco style to some festive classics and career favourites.
Festive dining events with all the trimmings include Christmas with the West End JerseysItalic (12 December), when live music celebrating Frankie Valli and The Four Seasons will leave you "Beggin" for more, and **Christmas with The Arg Band **Italic(13 December), serving up an evening of classic hits led by original TOWIE cast member James Argent.
Music of a classical nature comes from Guildford Choral Society with their performance of Handel's MessiahBold (9 December), and ballet returns to the Surrey venue for the first time since 2019, with five performances of The NutcrackerBold performed by the 35-strong Nerubashenko Ballet and orchestra of 28 players (4-6 January).
G Live and Imagine Theatre are delighted to announce a brand-new magical family show for ages 3+, Santa's On His SleighItalic (16-24 December), written by Justin Fletcher. Starring Santa, Snowdrop the Elf, Rudolph and, featuring on screen, virtual little helper and Head Elf, Justy (played by Justin Fletcher), can you help fix Santa's sleigh in time for him to deliver all his presents?
Also, for families with children aged 0-8, join the party at the Rudolph RaveItalic (2pm, 16 December), where a DJ, glow sticks, glitter and giant balloons ensure a fun-filled afternoon complete with spectacular light display.
There's party time for adults too, with MASSAOKE ChristmasItalic (16 December) – the UK's biggest mass-karaoke event – featuring a live band and Christmas hits from Mariah, Wham!, Slade, Wizzard and The Pogues, as well as hairbrush anthems from the 80s, 90s, 00s and beyond. For those aged 25+, the venue's regular party night,** Tropicana Nights **(15 December) will have you dancing to all the hits of the 80s. "Don't' Stop Believin'" – it'll be a real "Celebration".
With a reputation for hosting some of the best stand-up comedians on the circuit, the venue's regular Hellfire Comedy Club is back with a Christmas special, the Hellfire Comedy Cracker (20 December) – complete with curry – shining a spotlight on exciting up-and-coming talent.
**Miracle on 34th Street **Italic(1pm, 21 December) is the ultimate Christmas movie, and the 1947 original, featuring Maureen O'Hara and John Payne, forms part of G Live's Memory Cinema season, which shows classic films in a relaxed and accessible environment.
In the period between Christmas and New Year, Cirque EnchantmentItalic (29 & 30 December) will take audiences on a magical adventure to a world of frozen beauty. Featuring superb choreography, breathtaking vocals and a troupe of amazing circus performers, this is the perfect treat for the festive period.
---
In addition to Christmas events, there are lots of other shows currently on sale during November and December, including Dawn FrenchItalic (23 November); Tom Davis: UnderdogItalic (22 & 24 November); Gareth Malone: Sing-A-Long-A-Gareth-TwoItalic (25 November); Far From SaintsItalic (27 November); Scouting For GirlsItalic (29 November); **From The Jam **Italic(01 December); Noel Fitzpatrick – Beyond SupervetItalic (2 December); Viggo Venn: British ComedianItalic (6 December) and Wifi WarsItalic (9 December).
---
With G Live Gift Vouchers the perfect Christmas present (available online at glive.co.uk/GLGiftVouchers), family and friends can choose what to see in the New Year. In January alone, events include: An Evening of Burlesque (12 January); Most Haunted Live with Yvette Fielding and Karl Beattie (16 January); Giovanni Pernice's Let Me Entertain You (19 January); and The Making of a Murderer (30 January). There's also comedy from Ed Night (20 January) and Sarah Millican (27 January), the ultimate tributes to Abba (Thank You For The Music, 11 January), The Bee Gees (The Magic of The Bee Gees, 18 January) and Elton John (The Rocket Man, 20 January), and – for younger audiences – Peppa Pig's Fun Day Out (24-25 January).
For a full What's On guide, visit glive.co.uk.
---
**The Café at G Live ** Daytime Opening
The Café at G Live opens Monday – Friday (10.30am – 4pm) and Saturday (10am – 4pm), serving a range of hot drinks, cakes, snacks, and a lunch menu including sandwiches, soup of the day and loaded jacket potatoes. The perfect place to work remotely, free wifi is also available. _ The Café will be closed during the day from 25 December – 1 January (with the exception of 30 December, when the café will open at 1pm)._
Evening Opening
The Café at G Live opens 2 hours before all main house performances*, serving a range of hot Street Food dishes alongside hot drinks, snacks and alcoholic drinks. Visit the website for latest menus.
* The Café is not open for Tropicana Nights 80s, Hellfire Comedy Club events, Christmas with the West End Jerseys, Christmas with the Arg Band and the MASSAOKE Christmas.