G Live Launches Daytime Café!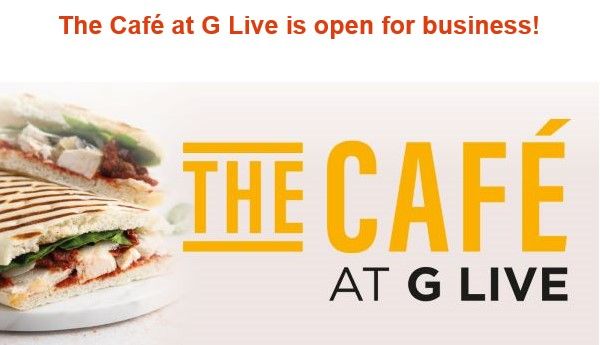 G Live, one of Surrey's premier live entertainment and conferencing venues, today announced that The Café at G Live will launch a daytime service from Monday 15 May 2023. A popular destination for both the local community and visitors to Guildford pre-pandemic, a return to daytime trading augments the recently extended pre-event food and drink offering already available to audiences.
Opening 10.30am-4pm (Monday to Friday) and 10am-4pm (Saturday), The Café at G Live will offer an all-day menu of artisan sandwiches, loaded jacket potatoes, soup of the day, and a premium selection that includes Croque Monsieur, a triple roasted Classic Chicken Club, and vegan Roasted Pepper, Pesto and 'Sheese' Melt.
With an extensive programme of events across the year, including stand-up comedy, rock and pop, classical music, dance and theatre, G Live recently introduced Street Food before every main-house performance. The grab-and-go-style dishes, developed by the venue's chefs and inspired by cuisines from around the world, options include Chicken Katsu Curry, Sri Lankan Sweet Potato Curry and a South American Burger with Chimichurri Marinade.
Venue Director, Andy Locke, said:
"Following the successful launch of our Street Food initiative prior to evening performances, daytime opening of The Café at G Live is an exciting expansion of our operation. Our bright, modern foyer café is the perfect place to meet friends or business colleagues for an informal coffee or lunch and, with free wifi, offers a dynamic alternative for home workers. We look forward to welcoming those who live and work in the area, as well as those visiting Guildford."
In addition to freshly baked cakes, The Café at G Live are also proud that their selection of fairtrade coffees from Caffe Praego support social projects in communities in and around Rwanda. Investing in education, Praego are passionate about improving children's welfare and empowering young people with the skills to break the poverty cycle.