Guildford International Concert Season 2023/2024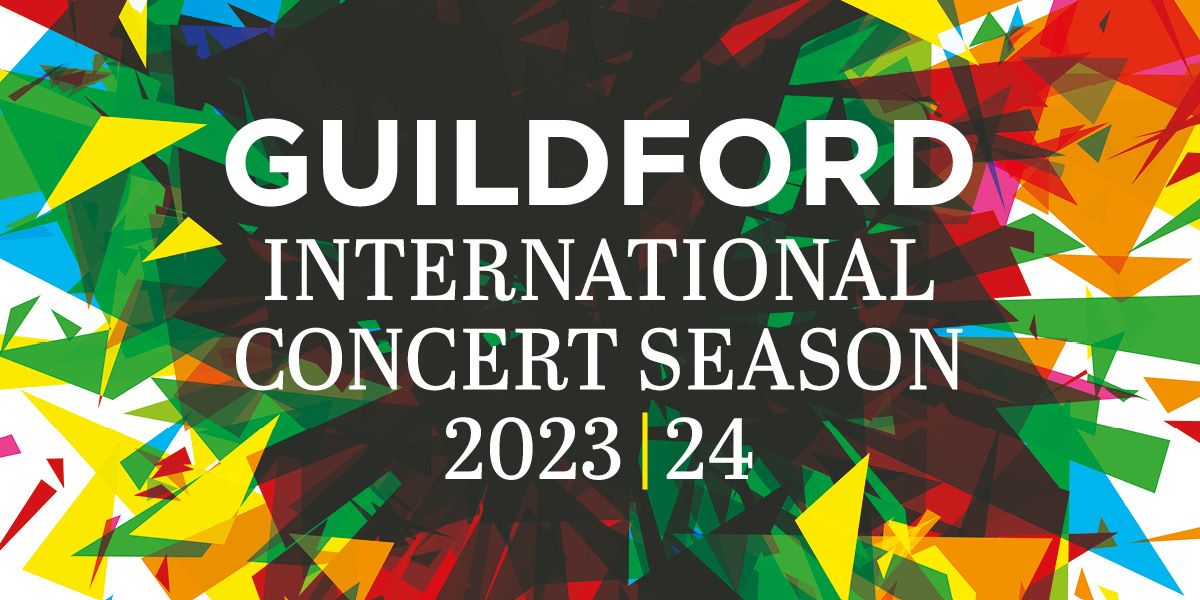 G Live, recently announced as Surrey's Best Live Music Venue (Surrey Awards), have today announced the 2023/2024 Guildford International Concert Season. Presented in association with IMG Artists, the season -which opens on 13 September 2023 – showcases the best in classical music from the UK and around the world, with concerts from Concerto Budapest Symphony Orchestra, National Symphony Orchestra of Ukraine, Czech National Symphony Orchestra, the English Piano Trio and the Royal Philharmonic Orchestra.
In addition to big title pieces, including Beethoven's 'Eroica' Symphony, Sibelius' Finlandia and, performed by Guildford based Chloe Hanslip, Bruch's Violin Concerto, the European orchestras also celebrate composers from their home nations. Pianist Pierre-Laurant Aimard plays the Piano Concerto No. 3 from Hungarian composer Bartok, Ukrainian composer Lyatoshynsky is represented by his Symphony No. 2, and The Moldau and Symphony No. 8 from Czech composers Smetana and Dvořák are performed by the Czech National Symphony Orchestra.
Soloists in the season also include Antonii Baryshevskyi, playing Beethoven's Piano Concerto No. 4, Federico Colli, with Rachmaninov's Rhapsody on a Theme of Paganini and cellist Zlatomir Fung performs Haydn's Cello Concerto in C Major. From the UK, the Royal Philharmonic Orchestra plays two concerts, the first conducted by Manoj Kamps and the second by Shiyeon Sung, with pieces including Brahms' Symphony No. 2 and Dvořák's 'New World' Symphony.
In Beethoven: The Man and his Music the English Piano Trio play movements from piano trios 'The Ghost' and 'Archduke', and beloved piano sonatas 'Moonlight' and 'Pathetique'. Christopher Ravenscroft and Ann Penfold narrate the evening, reading from contemporary accounts and letters.
Alongside the Guildford International Concert Season, G Live are partnering with The Cheryl King Trust, a charity whose aim is to remove the financial barriers that prevent young people in Surrey learning a musical instrument. Providing bursaries for instrument and singing lessons, as well as grants to local music ensembles, G Live hopes to shine a spotlight on their work, and to inspire more young people across Surrey to experience the joy of making music.
G Live are also proud to partner with Scala Radio, Bauer Radio's digital station presenting classical music for modern life. Established in March 2019, Scala Radio presenters include Simon Mayo, Angellica Bell, Mark Kermode and Penny Smith.
Venue Director, Andy Locke, said:
"The twelfth Guildford International Concert Season brings the very best in classical musical to Guildford and, presented in association with IMG Artists, it promises to offer something for all tastes – from seasoned concert-goers, to those discovering the stirring, passionate, reflective and restorative qualities of classical music for the first time. I am also delighted to champion the work of The Cheryl King Trust, and their aim to make music lessons financially accessible to all young people in Surrey, and to partner with Scala Radio." G Live, one of 14 venues operated by Trafalgar Theatres, gratefully acknowledges the continued support of Guildford Borough Council.