Celebrating Milestones in the Town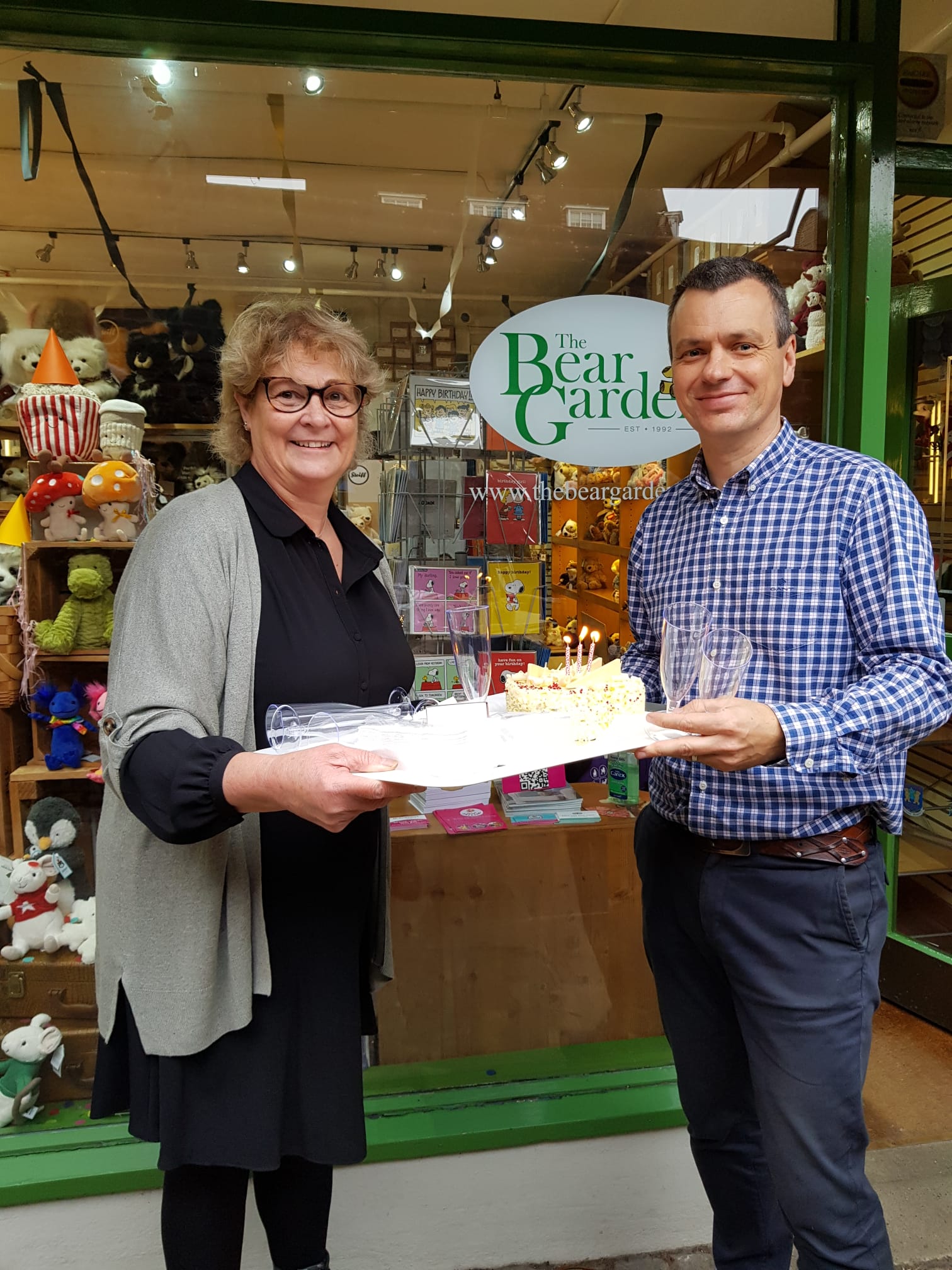 Celebrating milestones in the town
Guildford Town Centre has long been known (and loved) for its historic shop fronts, cobbled streets and charming independent businesses; they're qualities that have stood the test of time. They are what make our town stand out from the rest. Through changing times, these constant backdrops add to the rich tapestry of what makes Guildford such a draw as a destination, and it is the businesses that have 'stood the test of time' on our high street that we owe so much.
This month we celebrate two great milestones of some of the most established, successful and thriving businesses on our doorstep. ** Timeless Fashion**
Originally opening its doors in October 1898, purveyor of premium menswear, Weir Rhodes, set on its journey to dress the gentlemen of Guildford in the finest and the latest fashions around. An independent, family-run business, that valued the time-old tradition of great service and customer care, was soon to become a staple of our town. Leap on 125 years, the ups, the downs and the dramatically changing UK retail landscape, and this independent business, with the same ethos and attention to detail, still stands to this day.
125 years in business! Definitely a milestone to not only just remember but to celebrate (in style!). And that's exactly what they did, with a fabulous competition to commemorate this auspicious occasion, and a celebratory event attended by Glenn Hoddle and Mayor of Guildford, Cllr Dennis Booth.
Commenting on their anniversary, Carl Gravett, manager at Weir Rhodes says;
"The longevity of our store is down to good customer service, quality product, and ensuring that we always put the needs of our customers first. We'd like to thank all of Guildford for supporting us over the last 125 years, and also to those customers who have participated in our event and competition – the 10 lucky winners will be notified shortly." ** 30-years young!**
Born and bred Guildfordian, Andrew Colborne-Baber is another local, independent businessman that has made his mark on the town, and created a thriving business in the process. The Bear Garden, which sits in Jeffries Passage, has just turned 30 years old and its fan base just keeps on growing.
As a recent graduate from Aberystwyth University, Andrew returned home to Guildford in 1992 with that eternal question of what his next steps should be. On a quest to buy his mother a teddy bear for her birthday, the idea of The Bear Garden was born, and the rest, they say, is history!
Fast forward to today, and this much-loved business now operates as both a bricks-and-mortar store and a strong online retailer. It's known throughout the UK as one of the leading collectable teddy bear and soft toy specialists, and has an ever-expanding reputation overseas.
And what is it that makes The Bear Garden stand out from all the rest, "proper, 100% customer service every time you visit", replies Andrew at the recent Experience Guildford Customer Service Awards, where they have bagged the Best Independent Retail Award an incredible 7 times!
Andrew goes on to say;
"It is hard to believe when I look back and think that I was a young man with nothing more than the inkling that the idea of opening a teddy bear shop would work. I would like to thank the companies that I contacted for placing faith in me all those years ago." (The Bear Garden website)
Indigo Moon Holistics
Also celebrating this week are Indigo Moon Holistics in Tunsgate Quarter, who are celebrating their 1st year of being in Guildford.
Happy birthday and huge congratulations from all at Experience Guilford to all 3 of these businesses.